06/05/2017
New Club Sponsors
This year we have had new sponsors come on board and become apart of the Litchfield Polocrosse family. If all members can support these business when possible as the success of their business reflects the level of support they are able to offer us as a club. With this I'd like to welcome Coolalinga & District Bank, Earl James & Associates, Humptydoo Dental Clinic and In & Out Board Marine.
Thankyou to these businesses for your support
23/04/2017
Patty Has A Win in Qld
Club member Pat Coleman has been plying his trade with the West Sale Polocrosse club over the wet season. The team consisting of the whole Semmens family and himself traveled to Barastock carnival held in Warrick Qld inconjunction with the Australia Vrs South Africa series. The West Sale team competed in the 'B' Grade Mixed competion. Not only did they come away with the win but the team also picked up best horse and rider combination in both the mens and womens section.
Congratulations Pat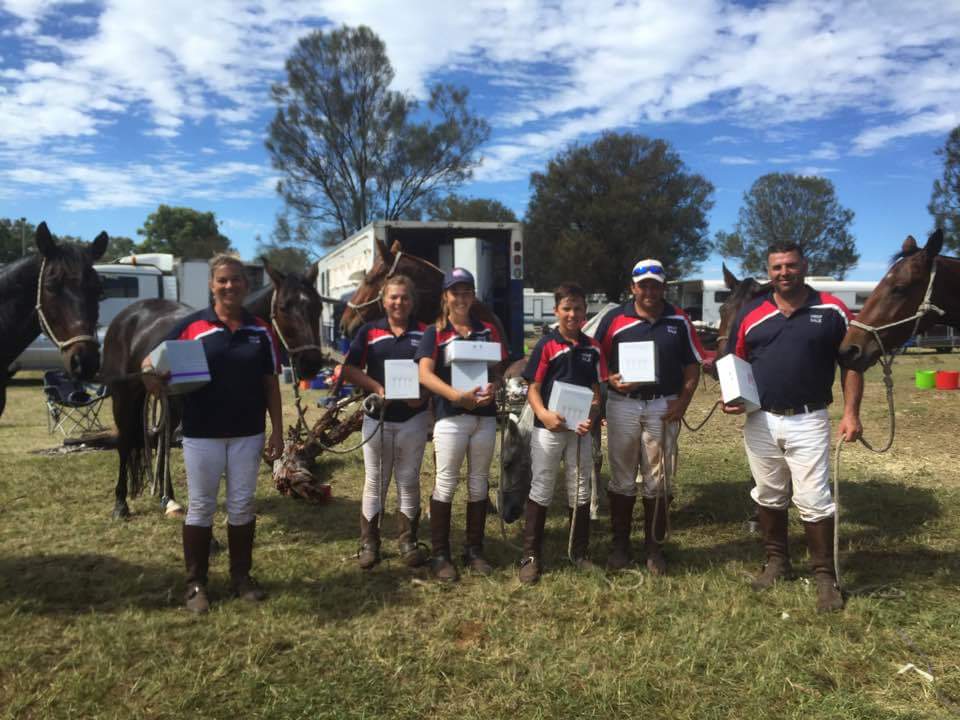 20/04/2017
Season 2017
Polocrosse 2017 is fast approching as both new and old members are getting their trusty steads fit and ready for the first carnival in mid May. Brian Davidge has been running trainings on push bikes for the last few months which have been well attended and with minimal carnage but the horses are out now so come down to Fred's Pass Reserve Sunday afternoons at 5pm and have a fun training session with our members.
For those that are yet to pay membership please rememer that this will need to be done before you are able to do competitave training or play.
It has also been a busy start to the year at Livingstone Reserve with yards now installed making it avaliable for trainings. We thank the Kind support of our sponsors to achive this Coolalinga Community Bank, Humptydoo Dential, Clinic Earl James & Associates, Tramc Group and BedRock Concreting please support these businsses as they are the ones that are helping the club move forward into the future.
Bring on Season 2017 and good luck to our members
07/02/2017
SEASON 2017
Our AGM was held on the 5th of Febuary. Thanks to those that came to the meeting plus the members who were on the phone whilst playing in Victoria. Our new committee is Travis McMahon - President, Peter Maley - Vice-President, Tessca Walton-Beck - Secretary, Rachel Clayton - Treasurer, Club Umpirer - Gerard Maley, Club Coach - Brian Davidge, Club Selectors- Brian Davidge, Gerard Maley, Jazz Currington and Club Delegate - Mick Riley
OUR FIRST CARNIVAL 21st & 22nd of MAY
First of I'd like to congratulate everyone that helped out over the weekend, we can not run a carnival without the support of the whole club and I hope all the first timers to the great sport of polocrosse enjoyed their first hit out. We had a successful carnival winning the A grade and coming runner up in both the B and C grades. We had a clean sweep in the B grade picking up all the best positions plus best horse with Austin Coleman in his come back game grabing best 1, Mick Riley was back again to take home best 2 and back from her time in Albury Sharia Piening grabbing best 3 and her horse Sammi taking home the rug for best horse. The ever reliable Gerard Maley was awarded best 3 in the A grade with brother Peters horse being crowned best in that division.
Thankyou also must go to our sponsors that make these weekend all the more possible so remember to support these people where ever possible.
* Coleman's Diesel Service
* Paradise Group
* Maley's Lawyers and Barristers
THE SEASONS ALMOST HERE
Its almost that time of year again the start of the 2016 polocrosse season. We have had our AGM and this year we have Travis McMahon once again holding the Presidants position with Angela Harrison as secretary and Emily Coleman filling the Treasurers spot. After a successful season last year we have a number of members representing the Northern Territory at the Nationals held in Albury this April. We will be hosting the first tournament of the season so we will need all hands on deck straight away. Heres to another successful and fun year